SUMMER READING - PART I
So, I've been doing a lot of reading this summer and thought I would share my thoughts on some great resources with you. This will be a two part post. My reading pile seems to be growing faster than I can read the books on it. Darn you Twitter for showing me all these great things to read!
TEACH LIKE A PIRATE By Dave Burgess
This book is all about ENGAGEMENT. He gives great tips and tricks for teachers to get Students engaged in learning, and how to build positive relationships with them. No learning can take place if a student doesn't feel that you care about them and are willing to get to know them. Dave tells you how you can do this.
He also talks about the importance of good pedagogy and that this is not a natural talent...it takes work. This really resonated with me. Great teachers are great because they work hard at it! They put in the time, they do the PD and they are not afraid to take risks, fail and learn from their mistakes. I think my favourite line from the book is, "If you are afraid of looking silly in front of your students...GET OVER IT!"
He writes in a very easy to read style that I found super engaging as well. I read this in a day - I couldn't put it down. He is very active on Twitter @burgessdave. In fact, he responded to my tweet about his book in literally minutes from my posting!
GENIUS HOUR: PASSION PROJECTS THAT IGNITE INNOVATION AND STUDENT INQUIRY By And McNair
I've been looking for some resources to do a Genius Hour with my class this year and this one is fantastic. Very easy to read, full of great ideas and activities. It has lots of online links to resources, videos and additional reading and help for setting up Passion Projects in your classroom.
Andi is writing from the perspective of a Gifted classroom, but her ideas are easily adaptable to any classroom situation and she gives additional resources that can help with this as well. If you are thinking of starting Passion Projects in your room, this is a great starting point and a must read!
She is also on Twitter @mcnairan3 and is great about responding to your questions.
CREATIVE SCHOOLS By Sir Ken Robinson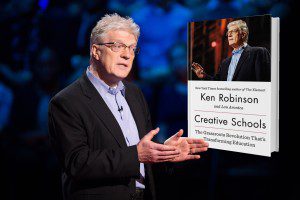 If you've watched his TED talk - this is an expansion of his research and work on how to change and improve schools that make kids want to go to them and prepare them for a future that is in no way like the Industrial model most of our schools were designed on in the last century.
He has lots of real world examples and his section on Teacher Professional Development and Training was very enlightened. You can follow Sir Ken @SirKenRobinson
SocialLEADia By Jennifer Casa-Todd
AMAZING read! If you liked George Curous' The Innovators Mindset you will love this one too. He even writes the forward.
Jennifer delves into all the issues, concerns, pros and cons of having students learn about Social Media and Teachers leading the charge to make them Digital Citizens. If you haven't started your own or a classroom Twitter Account by the time you've read the first chapter, you are clearly not interested in Educational Technology or preparing your students for the future.
She give lots of tricks and tips, explains how to use the various platforms and spotlights teachers and students who are true exemplars of the kind of 21st Century learners and teachers we want to support. There are lots of additional resources and her work is very well researched and supported. She's an Ontario gal and she is super approachable. Follow her @JCasaTodd
THE GROWTH MINDSET COACH: A Teacher's Month-By-Month Handbook for Empowering Students to Achieve

by
Annie's book is, as promised, a great handbook for someone wanting a month by month guide to teaching students the power of a Growth Mindset. She talks about Carol Dweck's research into Fixed and Growth Mindsets and embeds this in lessons and ideas that you can easily adapt to any classroom.
She sets the book up into an Introduction to Growth Mindset and then takes you on a month by month journey with lesson plans, ideas, resources and online help to get your students thinking "I can't do that...yet," instead of quiting or saying "I can't."
If you have read Carol Dweck's work, this is the perfect companion book to help teachers apply the research to the classroom. Find her on Twitter @MsAnnieBrock
READY-TO-USE RESOURCES FOR MINDSETS IN THE CLASSROOM: Everything Educators Need for Building Growth Mindset Learning Communities

by
Need more Growth Mindset resources? Try this one. Links, resources, activities, lesson plans, letters to parents - all ready to use, just like the cover promises.
She gives tips to get administrators on board and how to get students engaged in growing their brains.
She has authored a few books on this, so check her out.
Follow her @MaryCayR
A Monster Calls

by Patrick Ness
I read this because it is the book I have chosen to share with my class as a part of Pernille Ripp's Global Read Along Program this October.
Patrick Ness does a great job of telling the story of a young man who is dealing with his mother's fight with cancer. He is dealing with monsters that are very real in his daily life and those that visit him at night. I refuse to be a spoiler, so I can tell you no more, other than it is a very moving story that will open so many avenues of dialogue with your students. And, if you join the Global Read Along, you can share these ideas and thoughts with classrooms around the world (including mine!). I've already linked you to the Global Read Along Program, but you can also follow Pernille Ripp @pernilleripp and Patrick Ness @Patrick_Ness
That's all for now, but watch for my next post where I share some Google-y books, books on bridging poverty in the classroom, Inquiry Learning and more.
Wow - I hope I get all these read before school starts in a few weeks! Gotta run...I got some reading to do!